41st Professional Women Controllers Conference
Report on ATCOs' Branch attendance, by Denise Percy, at the 41st PWC Conference, Long Beach, California.
Day 1:
The first day commenced with a talk from Raquel Girvin, Western Pacific Regional Administrator/Technical Services. Raquel has work as an advanced engineer at Boeing, McDonnell-Douglas and NASA Langley Research Centre.
Raquel highlighted that fewer than 10% of technical roles are held by women and fewer than 20% are women controllers.
Qualities Raquel associates with the women within her industry are Perspective, Intellect and Passion. She believes that this is an industry which requires much more resource. Raquel reflected on the role of women during the war. Raquel personally reached out to support other women developing their careers.
Through working on Virgin Galactic and developing a systematic approach at the FAA for Space, weighing risk against innovation, Raquel understood early in her research work that different backgrounds and diversity are essential. Childcare and family support was needed. She was lucky to experience both which she noted as crucial to the success of her research and future promotions.
She left us with the phrase from an unknown author "your wings already exist, all you have to do is fly".
Life Experiences – Attitude, Perspective, and Making Choices
Brian Shul – Keynote Speaker
Brian Shul, a Vietnam War Veteran and SR-71 Blackbird Pilot.
Shul served as a Foreign Air Advisor in the Vietnam War, flying 212 close air support missions in conjunction with Air America. Near the end of hostilities, his AT-28 aircraft was shot down in the vicinity of the Cambodian border. Unable to eject from the aircraft, Shul was forced to crash land into the jungle. Surviving the initial impact of the crash, he suffered severe burns in the ensuing fireball.
Crawling from the burning wreckage and surviving in hostile territory with extensive wounds for more than a day, he was able to find a secure location to camouflage and hide himself. He was evacuated to a military hospital in Okinawa where he was thought to have suffered terminal burns. Barely surviving 2 months of intensive care, he was flown to the Institute of Surgical Research at Fort Sam Houston, Texas in 1974. Throughout the following year, he underwent 15 major operations. During this time he was told by physicians that he'd never fly again and that he was lucky to be alive. Months of physical therapy followed, enabling Shul to eventually pass a flight physical and return to active flying duty.
Brian presented a very entertaining story which can be viewed by googling LA speed story or by clicking here.
Brian Shul & Denise Percy
Brian's message to the group was to think of the following points and what they mean to each of us:
Attitude
Perspective
Choices
Brian's points were:
Life is short and uncertain
Follow your passion because life is short and uncertain.
Don't lose perspective; we can continue to achieve this by attending PWC and similar events and networking with others. Learning from each other is key.
It just takes one person to open the door, so we should keep asking the questions.
about how women can develop in the work place, we must keep trying.
"We all have within us everything we need to make the miracle, but we train ourselves not to make the miracle".
"Imagination is more important than knowledge".
The Sky Is the Limit – Or Is It?
Key Speaker: Dr. Janet Lapp, Ph.D.
The visiting change leadership expert was Dr Janet Lapp, whose PhD is from McGill University Montreal, and who led a successful career as a university professor until beginning work in Change Leadership over 25 years ago. Her books and programs have created clear, actionable paths for organizations around the world, from the Instituto de Ejecutivos de Finanzas to Ritz-Carlton Hotels to IBM Sales to the government of St. Petersburg, Russia. She inspires leaders through disruptive change to be courageous enough to take innovative risks, focus on possibilities not just problems, and be flexible enough to drop what is no longer needed.
Key items for discussion:
Hierarchy doesn't work anymore.
Empathy.
Tend and befriend.
Create coalitions.
Recognise people doing a great job, recognise fear and anxiety.
Day 2:
Sexual Assault vs Sexual Harassment
Representatives from FAA Civil Rights (ACR), FAA Security and Hazardous Materials Safety, (ASH), FAA Chief Council (AGC), FAA Human Resources, Women in Aviation (WAI), EAP.
Domestic violence, sexual assault, and stalking have the potential to affect every Federal workplace across the United States. It is the policy of the Federal Government to promote the health and safety of its' employees by acting to prevent domestic violence, sexual assault, and stalking within the workplace and by providing support and assistance to Federal employees whose working lives are affected by such violence.
A good brief was given on what is sexual assault and what is not. Harassment descriptions included jokes, leering, innuendos, inappropriate posters etc. It was noted that harassment, which is any unwelcome sexual advance or sexual request may escalate to assault, which is sexual contact.
Statistics presented that 1in 5 have been sexually assaulted and 2/3rds know their attacker.
Victims will always be dealing with trauma, sometimes without support. 50% lose their jobs or are forced to leave
Current US policy when an assault is made is to move the individuals, starting with the offender unless the victim requests to move. However this cannot be enforced even if there is a court order, as the FAA is not party to the order. This has created issues that require careful consideration.
Guidelines were given to the group on what to do, including contacting the police hotline, early reporting so the facts can be recalled, especially where shift work is involved.
Victims are offered 8 counselling sessions per issue.
Consent is not based on how individuals are dressed, we need to stamp out 'everyday' misogyny and give consideration to desensitisation; victim shaming; self-blame and self- hate. All too often objectification has been normalised. In some areas of the work place objectification has been normalised. #metoo
RESPECT Campaign
Trish Gilbert, NATCA VP, Garth Koleszar and Irene Willard
The Professional Standards Program started in 2010 to promote and maintain the highest degree of professional conduct through peer-to-peer resolution. Over the past several years, many other programs have been created with the intent to have a positive impact on that human element.
The latest of these is the RESPECT campaign. The goal of the RESPECT campaign is to establish and support a workplace that creates an environment of mutual dignity, support and respect between individuals that work to protect the NAS. The campaign will strive to foster continued professionalism in each of our workplace relations through education and interaction.
RESPECT Stands for: Responsibility, Example, Safety, Professionalism, Empathy, Communication, Teamwork.
We can build a supportive workplace culture through awareness, education and meaningful conversations. We make critical choices every day and this is no different. When we choose to respect each other together we create and maintain a culture of collaboration, safety and professionalism.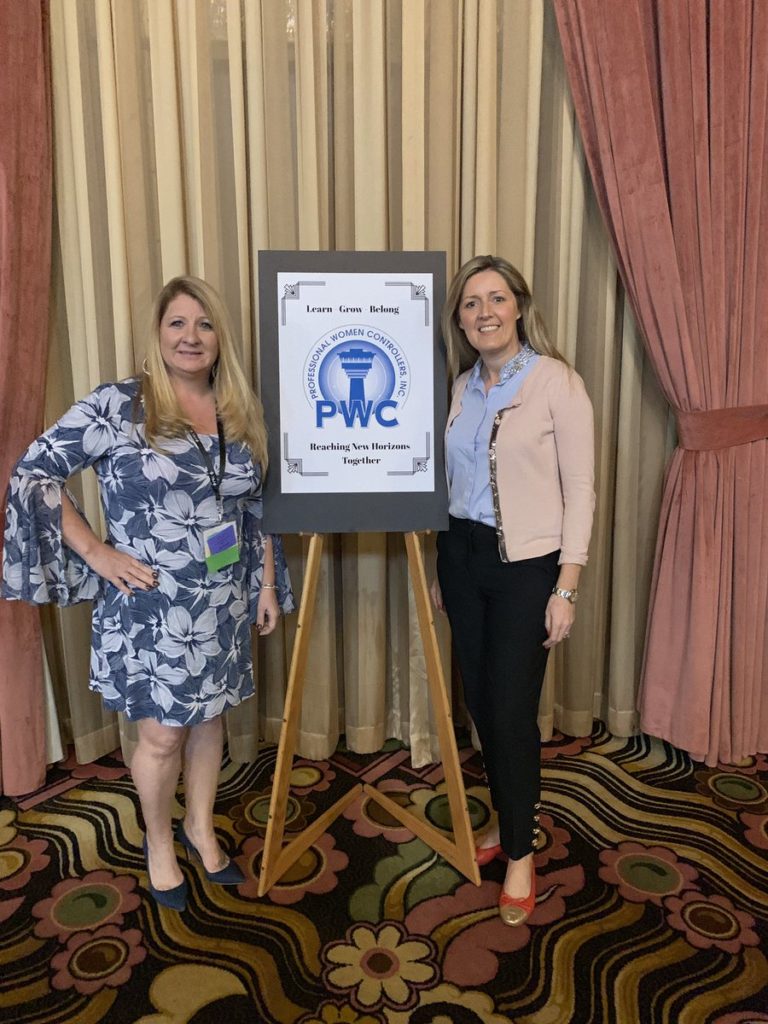 Trish Gilbert & Denise Percy
Key considerations;
Anti-bullying: addressing bullying in the workplace, cultural change.
Talk about what we should/can do, not what we shouldn't when describing behaviours. Human nature has an automatic defence to what they are told they shouldn't do.
Different people, from different walks of life mean we need to encourage team work.
Initiative started at a unit that needed to be a 'healthy' unit to ensure the correct
baseline for data collation.
Create a desire for the program by gently offering information (social media etc) to the staff.
Are there tools in place to support issues?
We validate our decision process based on the group we associate with (peer group) – we should develop this to establish professional standards.
Resource needs to be made to establish RESPECT teams.
Questionnaire language is key – e.g. don't write 'seldom do' etc. instead place 'I could do better' to ensure the personal interaction.
What does success of this initiative look like?
Build empathy into the plan.
Something we need to keep working on – deal with conflict in a collaborative way.
SAFETY CULTURE
This is made of:
Just Culture
Reporting Culture
Flexible Culture
Learning Culture
Informed Culture
FEAR – Face Everything and Rise 3 Steps in fighting FEAR
Don't worry, its wasted energy.
Get over trying to be perfect and give yourself permission to be confident.
Ask yourself if the worst happens could you live with that?
Improving the OJT Experience
Steve and Sue Meeks from Infina
Key points:
Everyone wins if government works better. As a team, Infina provides innovative solutions and services to complex problems and processes, applying their creative skill set and expertise to empower government.
Their proficient staff are at the front line of digital media, financial services, business management and solution development. Infina provides communication services that empower better and more efficient government by offering innovative solutions to complex processes and training through creative communication and avant-garde digital media. Infina is a woman-owned company recognized by the U.S. Small Business Administration (SBA).
This speech was very relatable for me as it aligns closely with my own work and I was able to draw parallels with my role in deploying new systems.
20 months training instead of 3 years by using gaming and Virtual reality, inspiring next generation of young women. (Although other evidence would suggest this is not a platform that women tap into? Unfortunately I didn't get the opportunity to discuss this with the presenter one to one.)
Remote towers – pyjamas form home? iPads replacing paper?
The future capability has been technically explored and is there, but the assurance to secure the accountability hasn't quite been reached.
Privatisation – guaranteed off the discussion list between Reporting period 2018 – 2023 for the FAA.
Because diversity is so critical we must actively support and engage in a variety of associations, programs.
Supporting Staff:
Define a group.
Once the group is defined – Develop a site for the group to access.
Mentees and Mentors, look up and match via the website.
Examples of providing support to women in the workplace:
Lunch and Learns – Hour long sessions to learn from others.
The opportunity to stand up and introduce the other people in the group (confidence building.)
Group projects – training in how to present/speak to groups.
Visiting other Tech centres (those in California are well placed for this!)
Employee's engagement what's available for new comers? Can the company secure the time for those activities?
Mentees – working with the company to ensure support.
Talking in front of 'toast-masters' for critique – useful in building presentation skills and confidence.
Go and interview high level people – Intel, Pilots, others working at a senior level in airlines?
Day 3
Women in Aviation (WAI) 30 year Anniversary
The last day was visiting the WAI at Long Beach Conference Centre. This included super talks and videos from Tammie Jo Shults, a Captain with Southwest Airlines, who frequently watched Air Force jets flying above her family's ranch. This early interest in flying led to Tammie Jo becoming one of the first female F/A-18 Hornet pilots in the United States Navy, after overcoming several obstacles due to her gender. After concluding her Navy career, she became a pilot for Southwest Airlines. Her successful landing on 17 April 2018, of Southwest Flight 1380, after an engine failure and decompression, saved the lives of 143 passengers. Tammie described how the events unfolded that day and the effects of team work and trust had on an incident that could have ended a lot worse.
Following on Ellen Stofan from the Smithsonian National Air and Space Museum gave a talk about being a woman in a male dominated industry. Ellen joined as a director in 2018 and is the first woman to hold this position. With more than 25 years' experience in space related organisations and a deep research background in planetary geology. Ellen was chief scientist at NASA from 2013-201. She helped guide the development of a long range plan to get humans to Mars, and worked on strategies for NASA to support commercial activity in low Earth orbit. Ellen will oversee a major seven-year renovation project to the museums Washington location that started in the fall of 2018 and still continues.
Finally, a talk from Gwynne Shotwell from SpaceX. As president and chief operating officer of SpaceX, Gwynne Shotwell is responsible for day-to-day operations and managing all customer and strategic relations. One of SpaceX's first employees, Gwynne joined the commercial space exploration company founded by Elon Musk in 2002. SpaceX has grown from a futuristic idea of enabling people to live on other planets to a company with over 6,000 employees and a valuation of $28 billion. Gwynne brought us up to speed on the interesting, varied and fast paced work currently being undertaking by SpaceX
Gwynne participates in various programs in the streams of STEM. She was named to the Forbes 2018 list of The World's 100 Most Powerful Women.
Summary
To conclude I have realised Networking is critical for women, especially those working in male dominated areas.
Career opportunities are often very different for women, who due to social expectation usually manage family and work in a fine balancing act.
This conference brought together resources, training and opportunities specifically for women.
I have found one connection has branched out to many, giving me the opportunity to learn even more after the event.
Seeing real life examples of other professional women and having the opportunity to discuss goals and objectives can help point individuals in the right direction, providing affirmation and support.
Vendors from different companies and other ANSPs provided hands-on demonstrations of some of their latest tools, for those of us working in system development that is a unique opportunity to experience and discuss so many varied systems in the one area, this would usually occur at professional conferences where women don't always feel welcome.
Having exposure to interesting speakers takes individuals out of their usual routine providing energy and perspective that builds a force for the future, allowing women to better understand their strengths and weaknesses during candid conversations over real issues that may hold women back at work.
These opportunities should be encouraged and built upon.