Tribunal victory for Prospect air traffic control members at Lydd Airport
The London South Employment Tribunal has found that the old employer of 9 ATCOs' Branch members – London Ashford Airport Ltd – failed to comply with the TUPE Regulations when it contracted out its air traffic control unit on 1 November 2017. In its judgment released at the end of May, the Tribunal awarded 5 weeks' pay to each of the claimants as compensation for these breaches.
Prospect had submitted the claims straight away in November 2017 but they were only heard over two days in February this year. Three  Branch members and our National Office, Steve Jary, appeared as witnesses with the claimants represented by Adam Ross of Old Square Chambers.
The claims were brought following a failure to inform and consult staff properly before the transfer on 1 November. Having had a request that the employer recognise Prospect rejected out of hand, members were first informed of the transfer on 23 October – just one week before it happened. The employer did not arrange for staff to elect a representative and failed to provide the staff or their representative with the information specified by the TUPE Regulations. Although the commercial contract for the provision of air traffic services made it clear that the transfer was intended to lead to changes in staffing levels and/or terms and conditions, staff were not told that this was even a possibility.
Steve Jary said "this was one of the most blatant breaches of the TUPE Regulations that I have seen in 30 years of dealing with business transfers. But our members stuck together through that difficult time and it is to their credit that they continue to provide a safe and effective air traffic service to their old employer, despite it treating them as mere chattels. The basis of TUPE is that employees should have a say in who employs them and to be treated with respect, without the imposition of changes. This is an important victory for Prospect in enforcing this law."
Since the transfer, the union has built a good working relationship with the new employer – a subsidiary of Air Partner plc – and is now recognised for its ATC units at both Lydd and Wycombe Air Park.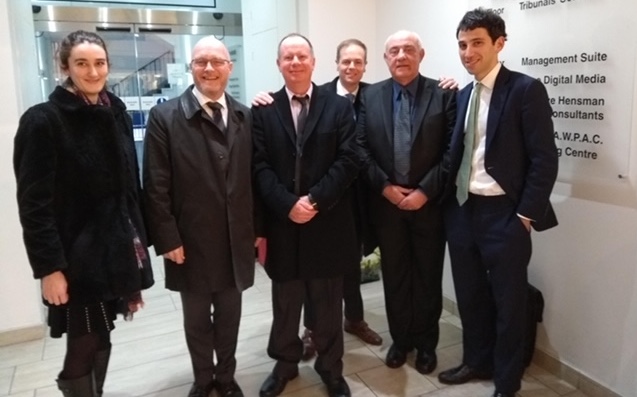 Leaving the hearing on 8 February, L-R: Frances Cusack (Prospect Legal), Steve Jary (National Secretary), Tim Maskens, Glenn Smith and Tony Harbron (Lydd ATC) and Adam Ross (Counsel).